Cheapest Freezone in Dubai
Last updated on May 14, 2022
Shams Consultant is advising customers for a quite some time on a various business structure. But most of the time clients are asking to recommend low cost business setup options; or cheapest freezone in Dubai. But it is also not a surprising thing; that a lot of people are looking to determine the most practical solution; as opening and operating a new business in a foreign state can be quite expensive.
The answer to the question of the cheapest freezone in Dubai may be clear for those who are the residence of UAE; but even then the selections of a cheapest freezone in Dubai require guidance and advice from business setup consultant. Because living in Dubai and know about the business are two different thing. And for those, who are planning to come to the UAE and to start a new company here, it might be very challenging to study the plenty of setup options which Dubai free zone is offering, and to select one that suits your requirement. Today we will share with you information on how to select and find the cheapest freezone in Dubai.
How to select cheapest freezone in Dubai
First and foremost, let us inline the main point that can help you to select the best free trade zone for company formation in Dubai free zone. These strategies are as follows:
Location of the free trade zone
The structure of your business
Registration cost that free zone offer
Also consider License cost as well
Choosing a company package, which allows you for a fewer number of resident visas.
Renting a flexi-desk instead of a permanent office.
Choosing the free zone with lowest resident visa charges.
These are the main point that a person can follow; when looking for the cheapest business setup in UAE. But also note that the above mentioned points are not applicable for every activity or in all cases; because every request must be look on a case to case basis. Since we are not looking at a precise case, our guidance will be of more general nature.
Looking for cheapest free zone outside of Dubai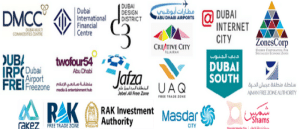 How can setup of a company outside of Dubai help to accomplish the decrease in the setup costs? First of all, the company license fee and company registration cost in free zones outside of Dubai are lower as compare to Dubai free zone. By opening a company there, you can save on license charges and registration fee which can be used for operational needs.
Secondly, free zone outside of Dubai does not have compulsory health insurance constraint with only health cards required for your employees.
Thirdly, most of free zone outside of Dubai does not require annual audit statements. As a result, company will have internal accounting but no extra costs on auditing services.
And last but not least, many free zones outside of Dubai do not require share capital into company's bank account. At the begging it may be difficult for a businessman to deposit an amount between AED 150 000 and AED 300 000; and also to transfer it from abroad. By selecting a free zone that does not requires share capital deposit; businessmen will also reduce their financial load.
As you may see from above mention arguments, sometimes considering another emirate could be a more financially viable option than trying to find the cheapest free zone in Dubai.
Choosing cheapest freezone in Dubai with a flexi desk
Rent of an office space in Dubai free zone is interlinked with a license and number of visas. The bigger office space will allow the company to apply for more visas; and company will be able to hire more employees.
Flexi desk is the minimal option the company may pick to be able to receive a business license. Simply in other words, it is not possible to get a license for your business without a flexi desk or rent an office space; and also note that flexi desk facility, which is a work station in a business center for use of up to 16 hours a week. Flexi desk will allow you to get a quota of 2 to 3 employment visas for your company and will cost you 3 times less, than a standard office.
Therefore, if your aim is to select cheapest freezone in Dubai to cut expenses, you should think through to rent a flexi desk facility. The more visas you require for your business, the bigger your physical office will have to be in the future.
Lower fees for resident visas
Resident visa charges in different free zones may slightly differ, therefore, when working on reduction of your set up costs, you may look for a free zone, which has lowest fees for resident visa issuance.
Comparison of cheapest free zone license in UAE
Ras Al Khaima
Dubai South
DUBAI MULTI
COMMODITIES
CENTRE (DMCC)
AJMAN
FREE ZONE (AFZ)
HAMRIYAH
FREE ZONE (HFZ)
Incorporation time
2 – 3 working Days
1 week
6-8 weeks
2 business days
3-5 business days
Share capital
0
0
50000 per company
185,000
Price of License
Monthly Payment Plan (post dated cheques)
No
No
No
Yes
No
Flexi Desk Option
10,300
17000
No. of Visa Allotment: 2
17620
No. of Visa Allotment: 3
N/A
N/A
Flexi Office Facility
Yes
Yes
N/A
Starting from 21950
No. of Visa Allotment: 2
25000
No. of Visa Allotment: 4
Industrial License Available
Yes
Yes
Yes
Warehouse Facility
Yes
Yes
N/A
350 per sq m
No. of Visas: 14
255 per sq m
No. of Visas: based on activity
General Trading License
20000
20000
82000
27150
35000
Consultancy License
10000
10000
32030
34550
25000
Visa – Shareholders
4000
4000
4510 /3300
4000
3500
Visa – Employees
4000
4000
Outside 3300 /
Inside 4510
4000 + Deposit / Ticket
3500 + Deposit / Ticket
All shareholders must travel required for company formation
Yes
No
Yes
Yes
Yes
Legal considerations
100% foreign ownership
Yes
Yes
Yes
Yes
Yes
Minimum number of directors
1
1
1
1
1
Minimum number of shareholders
1
1
1
1
1
Corporate directors allow
No
No
No
No
No
Corporate shareholders allow
Yes
Yes
Yes
Yes
Yes
Free Zone directory listing company info
Yes
Yes
Yes
No
Yes
Tax considerations
Exempt of corporate tax on profits
Yes
Yes
Yes
Yes
Yes
Access to UAE double tax treaties
Yes
Yes
Yes
Yes
Yes
Statutory audit required
Yes
Yes
Yes
Yes
Yes
Misc. considerations
Rent office premises outside free zones
No
No
No
No
No
Allow to export goods
Yes
Yes
Yes
Yes
Yes
Allow to import raw materials
Yes
Yes
Yes
Yes
Yes
Compulsory to appoint an Auditor
No
No
Yes
No
Yes
you can also check Fujairah free zone business setup, Umm Al Quwain Free Zone