Event Management License in Dubai
Last updated on October 19, 2022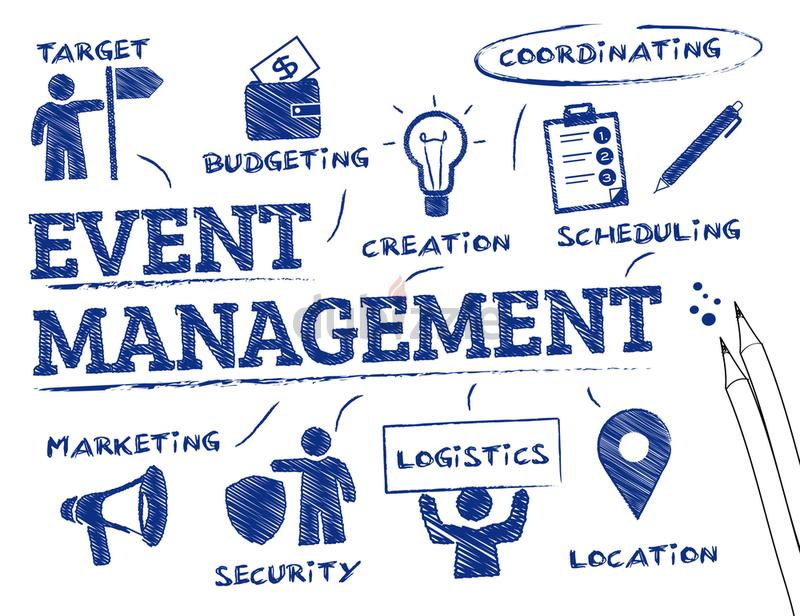 First of all, let's consider how Free Zones describe Event Management. Event Management License in Dubai is define as companies promoting and managing their own business events. Or who has a contract with third parties to design as well as manage business events. If you are looking for How to start an event management company in Dubai. Then here is a small guide on the process of whatever you need to do.
Firstly you need to understand the type of events you can organize in this business. That is whether you are planning for conducting a large scale event, a gala dinner, a launch or promotion or even a conference.
Once you have determine that what type of event you are planning. Then write down your vision for the event. And with each idea you have written so that to bring those ideas in to life. You can make a storyboard with photos to assist you with determining everything you will need.
Event License in Dubai
Prepare a budget: You need to determine the perspective cost of the entire event; and all the elements which make up the event, this will include all aspects such as the food and beverage, venue, decoration, branding and signage, invitations, decoration, stage light and sound and much more. Make sure not to underestimate the costs of these two factors and be sure to contact the specialists in each area of the services you require. As a leading corporate Event Management License in Dubai; we provide these entire services turnkey and many more.
Create a timeline that allows you to work with the items that require the most amount of time first. You then need to create a critical path checklist that works alongside your timelines. List every detail down set deadlines and assign owners of the tasks and tick them off as they are completed.
How to start an event management company in Dubai
There is no doubt to apply for a license to organize any number of event. A lot of entrepreneurs are looking to apply for an Event Management License in Dubai. That covers these activities as well as many more. Once you have decided to start your business activity. You need to pick where you want to start your business on a mainland or in one of its free zones. Both have their own benefits. For instance, you want to start in a UAE free zone. Then you do not need of a local sponsor. And you will hold 100% of your company share. But free zone company are limited in where they can grip events and exhibitions.
Any business setup in Dubai free zone need to apply for a permit from every single venue; they work with and cannot embrace events in open spaces for example beaches or parks. Mainland business in the meantime only needs to apply one time to the Department of Tourism and Commerce Marketing (DTCM); and can at that time usually embrace events all over the UAE. 
Easy setup process of Event Management License in Dubai
Whether you choose to start Event Management License in Dubai mainland; or in a free zone the setup procedure is very direct. If you hope to set up in a free zone; then the first step is to find one that matches your business. There are several free zones all over the Emirates such as Dubai World Center; as well as Fujairah Creative City that are by this time home to event management companies; and for that reason could make the ideal center. Once you have decided to open in a free zone. Several free zones will route your application in as less time as one week. When starting up on the mainland, the process is alike. On the other hand, applying to a free zone authority. You can apply for Event Management License straight to DED. DED will process applications in 90 days.
How to start an event management company in Dubai
When maximum numbers of entrepreneurs are exploring their opportunities of setting up a company;  they look for the best economical way out for a setup. In most cases, this ends up being a Free Zone License. If you are looking to open an Event Management License in Dubai; and are looking at setting it up in a Free Zone; here are some course of action and restrictions to holding a Free Zone Event Management License.
Allowable activities shall only and severely comprise of the following:
Through an Event Management License in Dubai  you can organize manage; as well as encourage gala events, award ceremonies; conventions, product launches, conferences, meetings, seminars and other business related events.
Might only start up hotel reservations for the attendees of the Event; as hotel bookings are in stern and from side to side relation with the Event.
Encourage and sell tickets for Event.
Non-permissible activities shall comprise but shall not be restricted to the following:
Carrying out any civil / construction workings for example building stages, scaffolding, exhibition stands or any extra construction work.
Trading activities that also include import and export of products.
Training Activities.
Talent Agency's Activities.
Venue Management.
Organize and sponsor events lacking the approval of the appropriate authorities.
Key points for Event License in Dubai
You can only sale and promotion the tickets for events outside the free zone. If you have the approval of the authorities (i.e. DED, DTCM, or the DM).
Sale and promotion of tickets in the other state or Countries are subject to the laws of respective Emirates.
You will be completely in charge for complete ticket money back, in the case of event withdrawal. In addition, you will go into and secure accurate Insurance police to shelter; any and all charges and refunds in case of event withdrawal. The Authority has the right to examine the activities, files, and affairs of the Licensee at any instance of time.
Licensee need to let know all personnel, employees, artists, technicians and any other person or body working with Licensee;  about all the regulations, guidelines, laws or texts link to the activity of Licensee. In addition, Licensee shall at all times be totally blamable for all harms arising from the activities of Licensee's Dependents.
The use of the word "Festival" is theme to the earlier written approval of the related authorities.
A licensee shall secure all approvals and go into agreements next to the use of any Knowledgeable Property. Information or documents possessed by third parties.
Tickets, websites, posters, banners, leaflets and every marketing material link to the event management; should at all times clearly state any related general public information.