Sharjah free zone company formation
Last updated on May 22, 2022
Sharjah is known being the third largest emirate of the UAE and the only one to have a land on the Persian Gulf and the Gulf of Oman. This constitutional monarchy is spread over an area of 2,600 sq. km, and attracts investors and tourists over 5 million annually. Strategically located among Africa, Europe and Asia, Sharjah boasts a fair judicial system of a low crime rate. It is known as the shipping sector of the country and has produced an industrial base for the United Arab Emirates. However, in the current times, Sharjah free zone is not limited to these peripheral sectors and has a quite vast outlook. The government of the UAE has taken practical steps to bring investment from abroad to create massive opportunities for Sharjah free zone company formation.
Free Zones in Sharjah
Types of License for Sharjah Free zone company formation
A valid business license is require for Sharjah Free zone company formation. In order to acquire Sharjah free zone license one has to choose on the type of business activity; which is to be perform in the region as the business action determines the number of license requires. There are mostly three types of license are available for Sharjah Free zone company formation:
Commercial License
Such type of license is provided for companies busy in trading or buying and selling of goods. If you choose an activity of business which is also classified under commercial activity; then authority will issue you a commercial license . Logistics, real estate services and car rental can be classified as a commercial activity.
Trading License
This type of license is issue to the business concern in manufacturing and industrial activities. You require having a physical office in the country to obtain this license. It includes such as manufacturing of food products activities, furniture manufacturers,  metal casing and packaging.
Professional License
professional license allow you to perform service in a legal way. They can be professionals, service providers, artisans or craftsman. It includes activities such as law firms, consultancy of management, accounting and auditing companies, educational institutions and medical services.
How to Set Up a Business in Sharjah Free Zone
The process to setup Sharjah Free Zone Company can be easy and smooth if you make an appropriate plan. Precise decision making, research, and following the official procedure are the basic steps. Apart from it, you need to follow the following steps:
your business understanding and deciding proper free zone for the same
Preparing setup plan for business
Choosing a name of company and reserving it with the desired free zone
Finalizing suitable setup of infrastructural
Estimating required workforce for the business
Depositing the minimum capital amount in the bank account mandated by the authorities
Completing licensing process as well as business registration
Also completing formalities of business setup by availing an individual shareholder; corporate shareholder or both to sign formation documents of the company in the presence of free zone authorities.
Procedure to Get a Sharjah Free Zone License
Company formation  in sharjah free zone are runing under the rules of respective free zones. To take the required approval you need to have valid documents. The list varies by the type of activity of business. Here in the following lines is the general guideline for steps and documents needed to get your license for Company formation in Hamriyah free zone
Initial approval for Sharjah Free Zone License
You need to get the initial approval to provide the following documents –
Complete application form from all aspects
Business plan
Copy of registration certificate /existing trade license (if you are an existing company, valid to local company only)
Colored copies of passport of the company's shareholders/Director for the new company and the appointed Manager
Specimen of the company's shareholders signature and the appointed Manager/Director for the new company
2 years financial audited reports for a corporate body or certificate of reference from a personal individual shareholder bank
NOC from the current sponsor (for individuals)
 Title deed of Unit
Letter of Intent
Registry Identification Code Form (RIC) for Manager/Director (Original and notarized)
Registration for Sharjah Free Zone License
After getting an initial approval, the next step is to give necessary fees and register your business. The fee depends on the type of business license you need. The documents are as under:
Complete application of registration
Resolution of board appointing Manager as well as Director
Power of Attorney given to Manager as well as Director
Memorandum and Articles of Association
signature specimen of Manager as well as Director
Photo of Passport-size with white background of Manager as well as  Director
Share information of capital
Licensing and Visa Process
The authority will create lease agreement.
And the concern free zone will issue the trade license.
The processing of Visa will start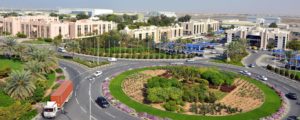 Why Set Up a Business in Sharjah Free Zone
Liberal economic policies and legal framework, cosmopolitan culture; and business-friendly company laws of Sharjah attract companies as well as industries to invest in the Emirates. Sharjah Free zone company formation boasts of unmatched investor incentives and facilities from the UAE government. Sharjah Free Zone company setup cost is reasonably moderate and works as the most cost-effective choice; when compared to the other free zones in the UAE. The free zones to small and medium sized enterprises also offer affordable land and labor as well as incentives. They have highly develop infrastructure as compare to the rest of the world; and a 24-hour licensing services to enable quick business setup for individuals. Furthermore, there are few auditing and accounting requirements, a relief to the Sharjah Free zone company formation. There are many such incentives for starting a business in Sharjah.
Advantages of Sharjah Free zone company formation
100% repatriation of capital as well as profits
Also 100% free transfer of funds
Abundant as well as low cost supply of energy
100% foreign ownership
No restrictions of currency
100% exemption on exports as well as imports
Also there is no Corporate tax.
100% privacy with limited financial planning
24-hour services of licensing
Cheaper lease rents is also one of the best benefit of free zone firm.
Low-cost warehouse as well as labor facility
Easy access to Sharjah International Airport as well as other big ports
Company formation in Sharjah free zone means huge earning potential, world-class infrastructure; tax exemptions, modern amenities, liberal government policies as well as free trade barriers. Process for setup of a company is stream line in every of the Sharjah free zones; but proper decision making as well as proper planning is important. To get help in Sharjah Free zone company setup from a professional company like Shams Consultant; can also help you take care of all the processes that are important to complete successfully the paper work. Shams Consultant helps global investors, businessmen, as well as corporate firm in Sharjah free zone; while getting all the advantages that provides a developing economic trading hub. Our experts take care of the entire Banking, Legal, Visa and Licensing formalities; and also allow corporate to enjoy their formation process of company without worrying about the steps.