Last updated on May 3, 2022
Adding a fresh member to your family is not a straight forward task. It needs a lot of safety check as well as other official procedure; so that the families stay secure and does not get trap in finding the ground rules for the processing of maid visa in Dubai. As for as shams consultant maid visa services is concern; we assist the clients with proper preparations for typing as well as management of documents; for example applications and agreement needs for the achievement and smooth implementation of the complete process. Medical check-up, bank account, emirates ID as well as stamping of residence visa; is all that we offer to the families so that to process maid visa in Dubai.
This is not where we hold back our support. We extend our support to the clients with gathering documents and meeting the official procedure; along with the submission to the Department of Immigration for the process of nanny visa in Dubai.
The choice of getting maid visa in Dubai; or nanny visa in Dubai is open to those families which are living in Dubai. But note that unmarried people are not allows to sponsor a maid in Dubai. Dubai follows certain norms for sponsorship of a house maid in Dubai; while this may vary little different from one emirate to the other in the UAE. You can consult the immigration department of UAE for the latest process of maid visa in in UAE.
Needs of house maid visa in Dubai
When sponsoring a permanent maid in Dubai; you will also have to be ready to bear the ticket price to their home country once in two years or annually; also you will provide accommodation for maid. For the person who is going to sponsor a house maid visa in Dubai; he or she must hold a valid Residency Visa in UAE. Also you need to have at least two BHK apartments to apply for servant visa in UAE. Most of the maids are from India, Sri Lanka and Philippines. They are generally live in Dubai. Majority of the family housing has quarters of servants.
you can also obtain a maid without having her. Such a maids are living in Dubai on a husbands visa. These maids perform part-time duty, as well as do not live-in. They are paid hourly basis and are not often live in servant quarter.
House maid visa in Dubai
Arranging for a sponsorship of housemaid visa in Dubai is a two step process. First of all an entry permit / employment visa will be mandatory for the maid to go into Dubai. Then you are requiring putting an application for a residence visa of the maid. The DNRD will issue a residence visa, labor card and labor agreement for the maid.
A maid's visa can be acquire by Head of the Family (normally the sponsor – male), drawing a lowest amount of salary of Dh.6000 per month or Dh.5000 plus accommodation. Maids are only being sponsored from India, Sri Lanka, Philippines, Ethiopia, Bangladesh and Indonesia.
Steps for applying for a house maid visa in Dubai
You have to apply for residence visa like employment permit to enter the country
At the second stage you have to appear for medical check and Health Care after bringing in the maid
Residence Stamp will be required at third stage on Maid's Passport
At last stage you will apply for Labor Card
Documents requires for servant visa in Dubai
The Salary certificate of sponsor is require for maid residence; but it must be in Arabic (in case of government employee); labor agreement of sponsor is requires for private employees and contract of accommodation.
Application form is requiring duly fill from an authorize typing office.
The passport copy of sponsor is requiring for servant visa in Dubai.
The passport Copy of maid is requiring for servant visa in Dubai.
The affidavit from consulate is also requiring to certify no relationship; that is if maid is from the same country.
Procedure for obtaining a Labor card for nanny visa in Dubai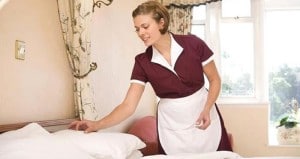 You have to put an application for a residence permit and medical health report; that is in 30 days of your maid arrival into Dubai. Take a visit to counter of DNRD and pay to the official typist seeking; an urgent visa form and an urgent visa form may require a refundable deposit or non-urgent form.
After taking stamp on the entry permit; your maid will have to pass a medical test (see process below). The average taking time for it could vary from 24 hours to 36 hours in majority of government hospitals. The medical test results can be collect from the typist; with the mandatory fee to apply for nanny visa in Dubai.
Now this is the time to submit the stamp employment permit, maid's original passports; medical report, copy of sponsor passport and salary certificate to the section of residency. You will have to fix the salary that you are going to pay to the maid. It is very good to take your maid with you that will save your time. You will provide four printouts of the agreement; which a sponsor as well as your maid will sign. The photocopies can be re-submitted to the officer for counter-sign and he or she will return two copies back to you. Among the two copies provided to you by the officer meant one is of sponsor and the other one is of maid. A stamp of residency with one year validity.
You can take the labor card in 24 hours; if you had opted for an urgent visa, you can collect your refundable deposit as well at the counter.
Procedure for undergoing the medical tests for maid visa in Dubai
In this very stage take your maid for a medical fitness test; there are 14 centers of medical fitness tests in Dubai. The Medical Fitness Centre at Sonapur is 24 hours available for women and men. But for women new visas, the center allow from 8 am (morning) till 8 pm (Evening). Just in front of it, there is an Emirates ID center offering 24 hours service; while for women, it is open from 7 am (morning) till 9.30 pm (evening).
All fresh maids will be screened for HIV, Hepatitis B, pregnancy, TB, Syphilis & Leprosy. The vaccination of Hepatitis B which costs an extra 50 is given in 3 doses – without delay; booster after one month as well as booster after 6 months. If you keep the yellow certificate as evidence of all three doses, afterward when renewing your maid's visa; you do not need to do it again, as these vaccination as well as certificates is valid for 10 years.
Costs of Medical Fitness for maid visa in Dubai
The normal fitness test costs AED 325 with AED 260 plus AED 50 for Hepatitis B vaccination and AED 20 for courier charges and it takes 5 to 7 working days to obtain the results.
The 48 hour service costs AED 420 and AED 370 plus AED 50 for Hepatitis B vaccination. You can get results within 2 working days.
The urgent service costs AED 520 and AED 470 plus AED 50 for vaccination of Hepatitis B. You can take its results after 24 hours.
They are also offer a 4 hour VIP service costing AED 740 and AED 690 plus AED 50, but this is only limited for Al Safa & Knowledge Village workers and dependents.
Maid visa renewal Dubai
Maid visa renewal Dubai has to be done after every year. You will have to visit an authorized typist and will pay the renewal fee of Dh.5100 and can get the renewal application form. After that you have to visit a government hospital for medical tests and pay the required fees over there. Then submit your renewal applications and report of medical fitness to any near DNRD branch.
Maid visa cancellation Dubai
If you want house maid visa cancellation Dubai, Please visit DNRD and collect a visa cancellation form. While there you will have to provide a copy of maid's original passport; also despite of one way ticket fare for the maid to fly back to his or her home country.
Next step for maid visa cancellation Dubai is to take maid, her labor card and passport; your passport as well as maid visa cancellation Dubai form to the airport on the day of departure. Check in maid and get hold to a boarding pass.
Then visit counter of airport immigration with maid; labor card, boarding pass and passport for maid visa cancellation Dubai. The authorities will do the obligatory cancellation processes at the counter; to ensure there is no more problem with the status of visa.