Gold Trading License in Dubai
Last updated on September 25, 2022

One of the clear beneficial businesses in UAE is the trading of gold; diamonds and other goods trading (trade listed products like oil and oil products, grain, colored metals; also industrial raw materials, food products and textile raw materials etc.) But in this topic our main concern is Gold trading license in Dubai.
The trading of Gold under the Gold trading license in Dubai can be made inside the UAE; as well as outside of UAE. What is very essential; freely from the type of activity – inside or outside of the country; the tax dealing of these firms remains the same.
Mainly the appropriate kind of company for trading with diamonds; gold and other supplies (exchange listed products) in Dubai. There are mainly three areas where someone can setup a gold trading license in Dubai.
The first is DMCC Free Zone area for gold trading license in Dubai.
The Diamond & Gold Park is the second area for gold trading license in Dubai.
Mainland of Dubai is the third option for Physical gold trading Dubai.
The expense of such company depends on the amount of product, commodities, categories and the number of visas for company's shareholders and workers.
Gold trading license in Dubai DMCC Free Zone
DMCC free zone serves the whole gold value chain; from explore and refinement to investing and trading. A decade or so back, Dubai was call as the City of Gold due to its significant Gold market. But from the time when DMCC has start devoting in first-class infrastructure and services, the amount of gold trade in Dubai has been rise. Now it financial records for approximately 25% of worldwide trade, most of them are located within DMCC Free Zone.
There is no other gold center in the world which offers such a balancing industry for gold and diamond. Innovations contain: the Dubai Gold and Commodities Exchange (DGCX), a trade finance product, DMCC Trade flow; also Sharia-compliant hedge fund product; also a regional gold trading option as well as the Dubai Good Delivery Standard; the only international standard for 1kg gold bars of .995 purity.
Setup procedure of Gold business in Dubai DMCC Free Zone
As a guideline in this article we will discuss the formation of company in DMCC free zone. We will provide you a short summary of the process and rule for the setup of company; rough idea also an estimation of the total expenses; as well as the total number of time taken for the set up of a Company.
 Incorporation Process of a Gold business in Dubai
The setup procedure of Gold business in Dubai is divided into three (3) stages these are as following: The Pre-Approval Stage is first stage, secondly the Registration Stage and the Licensing Stage is last stage of the process.
The Pre-Approval Stage of Gold business in Dubai
In order to setup a Gold business in Dubai that is under DMCC. It is important to get a pre-approval by submission of a name reservation Form to DMCC. In this step the authority reserves the name of the Gold business in Dubai. And enables DMCC to continue due diligence of the investor of the Company. The Pre-Approval and name reservation of the company takes usually 5 to 7 working days.
Registration Stage for Gold trading Dubai
Once due diligence of the shareholder is done. Then registration stage takes place in which the registration of Gold trading Dubai is start. The important documents must be submitted to DMCC within six weeks after the receiving name reservation.
Licensing Stage of Gold trading license in Dubai
This is the last and final stage and it needs the tenancy contract to be submitted. Once this stage is complete. You will receive the "Trading License". The Gold trading license in Dubai would permit the Company to trade. That is in all kinds of substantial gold within the DMCC Free Zone and in other countries. That is outside the UAE without any limitations.
If it is desire to trade within the UAE main land; then there are two main ways for doing so:
First to trade directly with an LLC company which has an import/export license? As part of the conditions of trade they would clear all goods through customs; or
Secondly the Company may go into an agreement with a logistics company; that would apparent the goods and bring it to the mainland.
Signing of Tenancy Contract and Office Space
Once you submit, it would take further ten (10) to twelve (12) working days; to receive the Trade License and extra constitutional papers of the Company.
JLT is the place where offices for DMCC companies are available for sale as well as for rent. About 29 buildings are offering to have room for commercial customers. Spaces for offices may be built-in with flooring / ceiling (and possibly partitions) or can be in a "shell and core" condition.
Physical gold trading in Dubai Gold & Diamond Park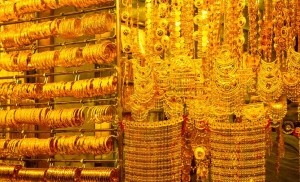 The Gold and Diamond Park came into existence in 2011. It is the target of all jewelers and of those whom desire is to trade in gold. But also for experience businessmen looking for extra facilities to have an office and physical presence in Gold and Diamond Park. It is situated on Sheikh Zayed Road, Gold & Diamond Park is a must see place to every customer. And it is always includes in each and every tourist visit list.
Gold & Diamond Park is design for Physical gold trading in Dubai; looking to full fill the particular needs of the gold as well as Diamond industry in Dubai. This system includes workshop areas complete with the features and services particularly for the requirements of the jewelers. Additionally, Gold & Diamond Park in recent times launched leasing of office places to other professionals of business looking for more value of their investment.
For Physical gold trading in Dubai Gold and Diamond Park the licensing authority is Jebel Ali free zone.
Advantages of physical gold trading in Dubai Gold and Diamond Park
Following are the main advantages of company in Gold and Diamond Park.
100% profit in shape of foreign ownership for Physical gold trading in Dubai
It offers 100% security of capital as well as profits
You will not going to pay any Corporate taxes
premeditated place within the heart of Dubai with easy access to all parts of areas
24/7 working freedom Physical gold trading in Dubai
No restriction on hiring of expat employees.
Essential air conditioning plant connections to all units of office.
Central gas supply arrangement to every unit of the building.
24 hours, 7 days a week security staff & video observation, fire alarms as well as fire defense systems.
Healthy and work loving atmosphere with appropriate ventilation systems; exhaust services as well as provision of acidic dumping and collection of waste.
Hallmarking will soon be facilitated by the Dubai Municipality's regular raise up facilities for all gold man-made and sold from the Diamond & Gold Park.
Outstanding retail midpoint facilities and environment, helping tourists and shoppers. Shuttle transport service between the Diamond & Gold Park as well as 5-star hotels at beach to begin from end of November 2004.
Procedure for Dubai gold trading license in Gold & Diamond Park
In order to operate under Dubai gold trading license; for manufacturing or trading in gold and in Diamond. the bellow mention procedures must be followed:-
A contract agreement should be acquires from the Gold and Diamond Park. That is after the payment of The rent for the unit being leased; 15% of the annual unit rent as refundable security deposit. Also 15% of the annual unit rent as supply deposit (refundable) maintenance charges if valid.
On getting the lease agreement, the JAFZA license should be applied; at the Jebel Ali offices and authority with the documents as mention below:-
The application form, with the agreement of partnership or memo of association either applicable.
A copy of the lease agreement must be attach for Dubai gold trading license. Payment amount of 5,500.00 as license charges. The person will prepare an application or through PRO of the GDP; with an annual charge of AED 2,500.00 per year. These charges will allow the tenant to claim all services with JAFZA. On the other hand, the charges will be as per transaction to be decided mutually; by the tenant and the Management of GDP.
Once receiving the applications. The Jabel Ali Free Zone Authority will release the certificate of Dubai gold trading license. And it will also release a letter to the bank of the tenant wherever the account is to be open.
After opening the account, the concern bank will issue a letter to JAFZA. That is to confirm that the required funds have been deposit.
 While JAFZA after receiving the letter from the bank will issue the license for gold trading Dubai .
Gold trading Dubai in Mainland
As the gold economy strengthens the whole world. We are very thankful to the industry of gold and diamond. As it plays a vital role in the growing economy of Dubai.
If you are a potential investor who has great command in the gold industry. Or you are a businessman who has the desire to spread out their production of business. Then it is a great opportunity for you to have a business setup in Dubai gold market. Now a day's gold and diamond are one of the prime imports in Dubai. Gold dominated greatly in imports in non-oil group category.  Gold Imports value Dh 24.4 billion or generally 15% of total non-oil business. Who hasn't heard about the Dubai gold souk?
It would not be wrong to say that Dubai gold souk is in the checklist of every visitor. Dubai Gold Souk has been a famous destination of the gold buyers in Dubai.  Gold Souk is a traditional gold market in the center of the commercial district in Deira. It is home of approximately 300  retailers who trade in jewelry exclusively.
It has been on the record that at any time up to 10 tons of gold is always available. That is in the Dubai gold souk! This statement clearly indicates the potential of setting up gold trading Dubai. The demand for gold mostly generate from countries like India and Iran etc. And also visitor from all over the world gather in Dubai to buy that delightful pieces of jewelries.